2022年03月11日【Interview】with Jose
What is "Novitas World"?
We wanted more people around the world to read our blog, so we translated it into English for you, guys! Also, we would like Novitas to become more international and hire specialists from all over the world. We hope you will enjoy it. 🙂
Hey guys!This is Saki Okubo, a student-intern at Novitas.
One day I took an elevator with a guy, who I often saw at the office but we never talked before. It was Jose Perez from technical department. He agreed for the interview so we finally talked yesterday. It was an interesting conversation about his home country Mexico, future goals and other things. So, here we go!
Saki: Thank you so much for the interview today, Jose. Could you please tell us about the reason you decided to leave Mexico and come to Japan?
Jose: The reason was the girl I met at a Mexico restaurant where my friend invited me to go to. She went to Mexico from Japan and was studying art and Spanish. She is my wife now. We moved to Japan together and have been living here since 2013.
Saki: Wow! This is a nice reason! 😊  How did you started working at Novitas?
Jose: I studied IT in Mexico so decided to make use of these knowledges and get related experience here in Japan. When I was looking for a job, I checked Novitas' website and the office and job description looked attractive so I sent my application.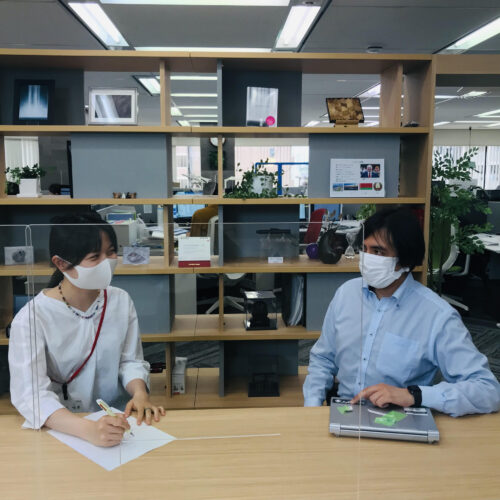 Saki: I see. You have been working here for some time, so what do you like about Novitas?
Jose: All colleagues are friendly and when I started my work, they kindly explained me a lot of things. Of course, they were strict sometimes but they made a great input into my personal growth so I really appreciate that.
And here is also one more thing about Novitas I'd like to mention. Before the coronavirus pandemic we used to go to bars, restaurants together and it was interesting to watch how people change after work 😊
Saki: The evidence of how they switch on/off when the working day is over, right? 😊 What do you usually do on holidays?
Jose: I watch TV or YouTube with my wife at home, spend time indoor. By the way, I've become addicted to Luisito Comunica recently, a Mexican Youtuber who was filming his journeys abroad. We can hardly go anywhere due to the pandemic these days but we can still enjoy travelling by watching his videos, so I recommend his channel.
Saki: Sounds interesting! I'll check it out, thanks! One more question. What do you like and dislike about living in Japan?
Jose: Public safety is a very attractive point. I was born in Mexico City, it's as large as Tokyo but there are some dangerous areas so it's not so safe. Dislikes…mm…not sure if I have any.
Saki: Even though I'm a Japanese I hate badly crowded trains. What do you think?
Jose: Actually, we also have these crowds in Mexico but people do not wait in lines like in Japan, sometimes they even have quarrels, fights so it is chaos there. 😊
Saki: Wow. I did not know that. Japanese people then should not complain about the crowded trains indeed. 😊 You have been living in Japan for more than 8 years now, do you miss Mexican food?
Jose: Yeah, I miss it but I also like Japanese food. I usually cut the ingredients while seasoning is up to my wife. Mexican taco is also easy to make so I make it from time to time. Crush avocado and add seasonings, cut into small pieces tomato and onion and add olive oil and coriander. Then just wrap this all into tortilla and that's it. If you add chili and garlic to the sauce, then it will be more like a Mexican taste.
Besides, if you add chili to the meat, that is usually used for Kebab, and add a pineapple topping, you will get "Tacos al pastor", which I also very like.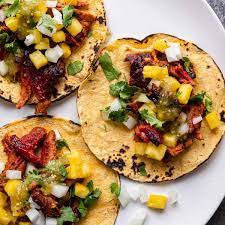 "Tacos al pastor", David d picture
Saki: I love taco and would like to try real taco in Mexico one day. What tourist places would you recommend to visit?
Jose: I'd recommend you to ride a boat called Trajinera over a canal which is near the Xochimilco city. I remember, when I was a kid, we used to ride over the canal with my family and eat dinner, listen to music on the boat.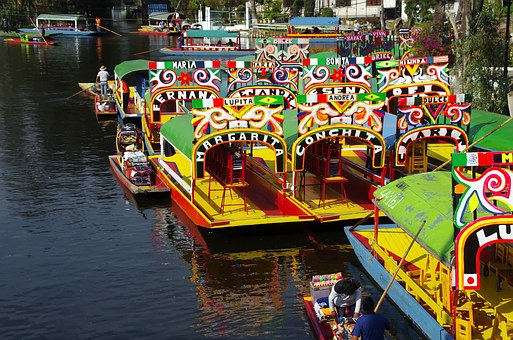 Colorfully decorated Trajinera, Pixabay picture
Saki: Wow! It sounds exciting! I'll add it to my list of top places to visit in the world. 😊 And the last question today. What are your life and work goals?
Jose: My goal at Novitas is to help with the new products development. And in order to reach this goal I also need to reach my life goal, which is to improve my Japanese skills. I already have a Japanese language certification of N2 level so I'd like to challenge N1 level as well.
Saki: Watching Jose working at Novitas encourages me to put more efforts in my own English studies. 😊 The interview is over now, so thank you so much for your time!
Jose: Thank you!
I guess you got interested in Mexico after reading the interview with Jose but what comes to your mind first when you hear "Mexico"? As for me, in addition to Mexican food it's a Day of the Dead Festival. I've got a strong impression of it when I watched a Disney movie "Remember me" so decided to watch it live one day at least once in a life.
BUT here comes the surprising info!
Jose said that this festival became so popular just 7 years ago thanks to James Bond "007" series!  "007 Spectre" released in 2015 included scenes with a non-existing festival which was highly rated by the audience. So, they decided to add a similar parade activity to the Day of the Dead Festival in Mexico which made it very popular. Actually, they always had the Day of the Dead in Mexico but it became a popular festival event with the movie influence.
In spite of becoming a festival not so long ago, the event has spread all over the world. The movies influence is great indeed.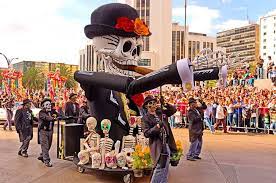 Day of the Dead parade, The New York Times picture
There was a lot to include in this blog post so I had to cut the text but I hope I could fully convey the charm and kindness of Jose, cherishing his family. I'd like to say "Thank you" to Jose for the precious time he spent with us.😊