2021年02月24日【Interview】with Nadia
What is "Novitas World"?
We wanted more people around the world to read our blog, so we translated it into English for you, guys! Also, we would like Novitas to become more international and hire specialists from all over the world. We hope you will enjoy it. 🙂
Hello! My name is Saki Okubo, I'm a student-intern at Novitas.
Do you know that Novitas is, actually, an international company? A lot of people from different countries are enjoying their internship and work at Novitas.
Today I'm taking an interview with Nadia. She became a member of our team in March 2020 and came here from Belarus (Eastern Europe).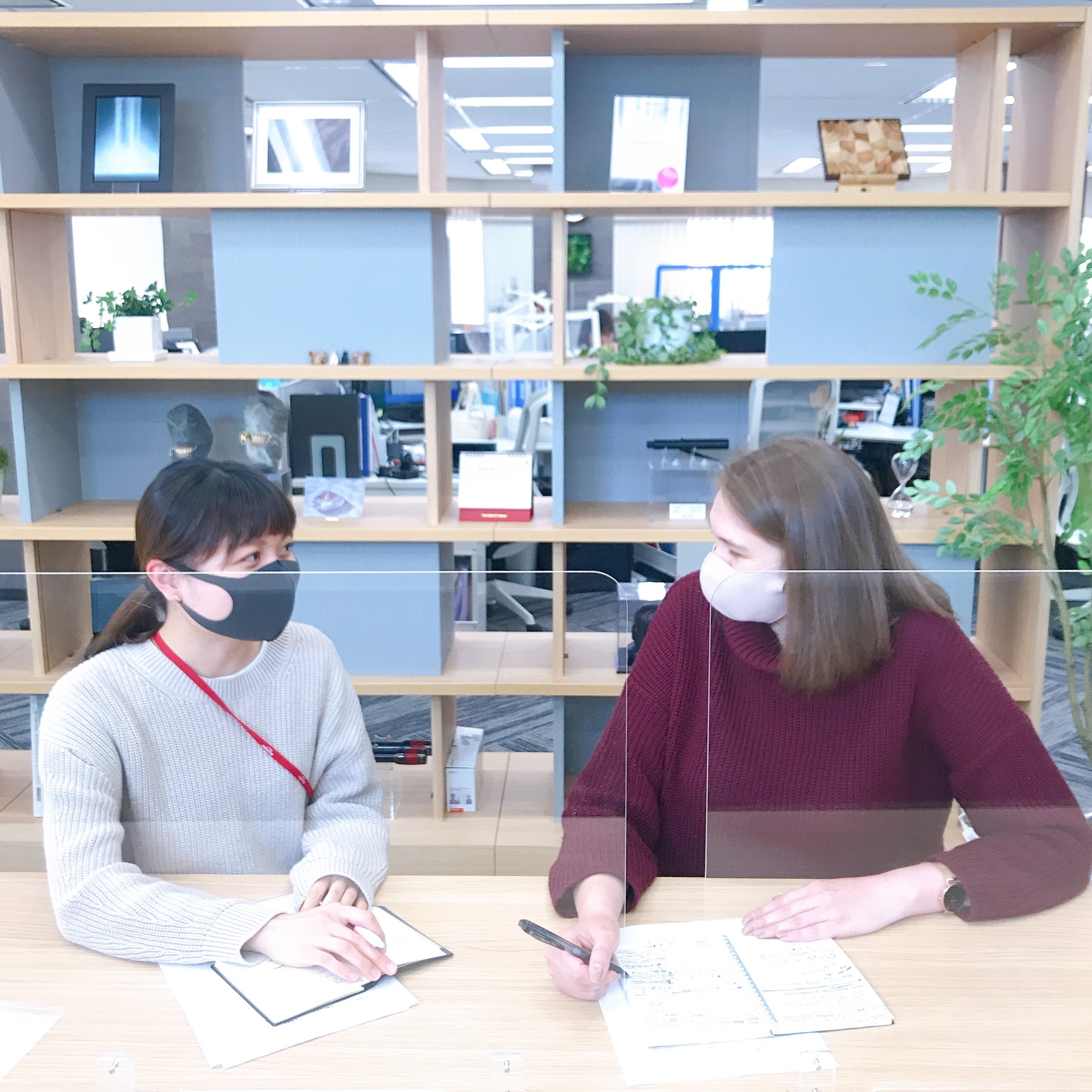 Saki: Hey, Nadia. Nice to meet you. It's probably too early to ask but you have been working at Novitas for about 8 months now, so what do you like about this company?
Nadia: Hey, nice to meet you too, Saki. Novitas has a special learning environment that encourages you to improve your skills. I received a great support with the Japanese Language when I'd been working remotely. And now at the office in Japan we also have an opportunity to join weekly meetings where we analyze different companies, share our thoughts and run discussions.
Saki: Yeah, I know what you mean. I like this learning environment as well. What do you usually do on the weekends?
Nadia: I'm not able to go out a lot due to the state of emergency related to the Covid-19 but yesterday I rode a Ferris wheel in Yokohama and also went to the Zoorasia Zoo to see pandas =)
Saki: I wish the Covid-19 pandemic ended soon so you would be able to freely enjoy Japan. What difficulties do you have in Japan?
Nadia: Air conditioner, TV and remote controls of other things like that are all in Japanese, of course, so I struggled a lot at the beginning =)
Saki: Oh yeah, like if you turn on the air conditioner in winter instead of heating…
Are you missing Belarusian food here in Japan?
Nadia: Yeah, I little bit. My favorite Belarusian dish is Draniki, by the way. It's like a pancake made of potato with meat inside, very delicious.
Saki: Oh, it seems to be similar to Japanese Dorayaki. I'd like to try out Belarusian Draniki as well =)
And the last question for today. What goals do you have now, working here in Japan?
Nadia: I, actually, have 2 goals. The first one is to pass the Japanese Language Proficiency Test of the highest level (JLPT 1). As of now I have a JLPT 3 certificate, so I'm going to take a JLPT 2 exam first in the near future before going to JLPT 1. And I also go on studying Japanese here in Japan in order to reach this goal=)
My second goal is to become a professional top manager, which requires EQ (Emotional Intelligence Quotient) of a high level. So, I'm reading different books about EQ and trying to improve my skills at my daily work as well.
Saki: You are, actually, so fluent in Japanese, so it was shocking to hear that you have been studying it for about 5 years only.
Thank you so much for today, Nadia.
I'd like to thank Nadia for being our first guest in the Interview series and for her story, full of love for Novitas and Japan.
Nadia is, actually, starting her own blog at Novitas in February, so we will be sharing with you the international aspect of Novitas even more in the future.
See you! =)