2021年04月30日Immigration to Japan : Support Upon Arrival
Hey, guys! 
This is Nadia, a business analyst at Novitas.
Read more about my way to Japan in the previous articles. 
I got my visa issued, flights booked and an apartment prepared so after more than half a year I finally got on a plane to Tokyo! 
#Spes Nostra~Nadia's growth path~

meaning
"

Spes Nostra"

means "our hope" in Latin. And also my name "Nadia" means "hope, expectation" in Russian. I came to Novitas with certain expectations, hopes and I'll also do all my best to meet the company's expectations and grow personally. So I started this blog series to share my growth path with you.
The CEO kindly met me at the airport in Japan and drove to the hotel, so I actually moved into my apartment the next morning and the immigration to Japan was finally completed. Once I moved in I was surprised and happy that all my requirements were met! 
The apartment itself was probably small for 2 people but quite enough for just me! It was like an open space apartment with a small kitchen, study corner with my desk, a living room and the bedroom, separated from the rest of the room by sliding doors. 
I was only expected to have a kitchen and a bedroom so the living room, the largest area I guess, was a great surprise! There was also a small closet room next to the bedroom, which was another great surprise, where I put all my clothes, suitcases and could also hide a few people I guess. 😂
There was just one window but it was about the whole apartment width lasting from the floor to the ceiling with a glass door to a balcony. I was more than satisfied!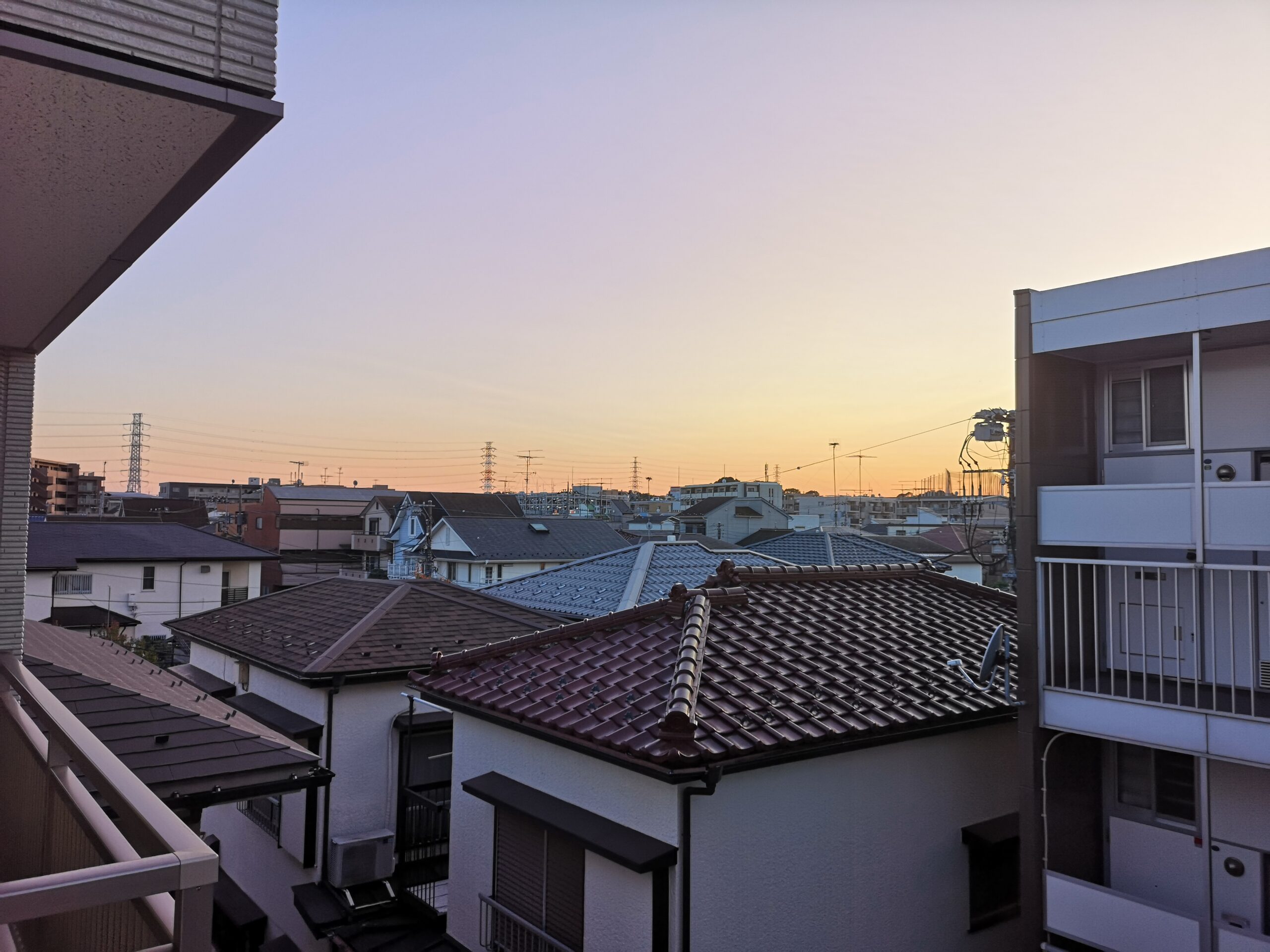 (the view from the balcony)
When it comes to the amenities, I had everything prepared except the iron and the hair dryer. Besides, I only had a bed and a desk in terms of furniture, the living room was empty, so we decided to go to IKEA and local Nitori to buy the rest as a support for my immigration to Japan.
We bought an iron and a hair dryer, also a small sofa, coffee table and a bag chair for the living room and some other small housing stuff at the company expenses, which was a huge support for a newcomer!
On my end I only bought the cooking utensils at the nearest supermarket and a few years later a bookshelf.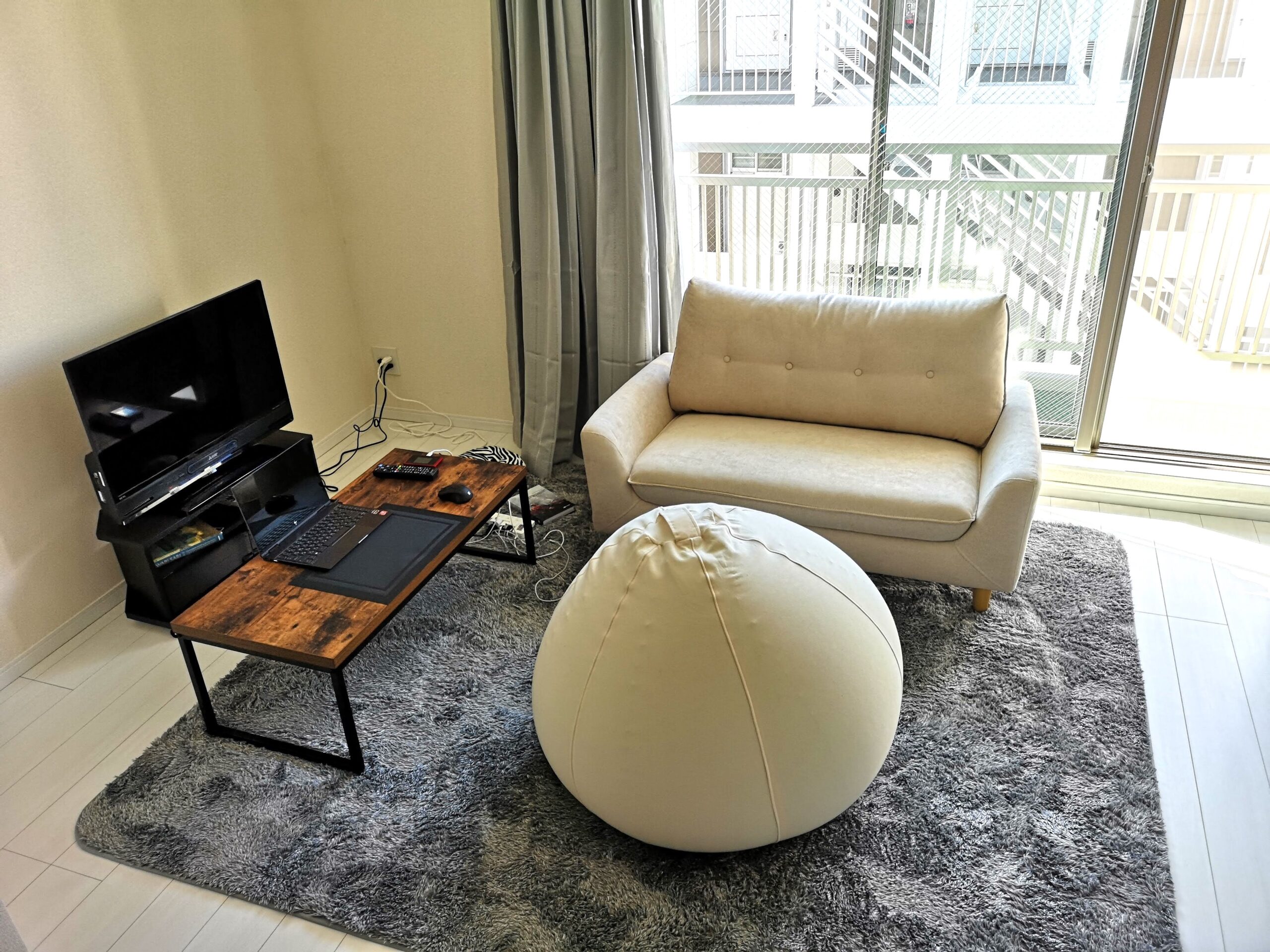 (the living room area)
~~~
By the way, I received one more piece of support from the company a few years ago when I tried to connect my laptop to the TV with an HDMI cable. I got the picture on TV but there was no volume. I tried my laptop and a few cables with the other TV and everything worked fine, so the problem appeared to be with my TV volume formats restriction. In this case I got my TV exchanged for the other one that accepted all volume formats at company expenses as well!
~~~
Once my 2-week self-isolation was over an HR rep helped me with the residence card issuing and we also went to the bank together to open a bank account and apply for a bank card.
This is how my new life in Japan started! 
Check out the next article for my first failure in Japan 😂